NautieGodiva Vintage is a small but well-loved store run from her founder's bedroom in an overcrowded New York City apartment. Eileen, former med student turned fashion designer, has always loved a good treasure hunt and hated having to let go of special pieces when they were either too big or too small for her Mediterranean physique. The result? A store curated for those desiring cute, quirky, and comfortable vintage finds.
ETSY

|

TWITTER

|

FACEBOOK

|

@TULLEANDTIARAVINTAGE


As a collector, beautiful things inspire me. I fall in love when I see intricate detail, sparkle, luxurious fabrics, and bright bold colors!




Tulle and Tiara Vintage is meant to feed every girls princess complex, we all have one. Sometimes it's not about function or practicality; sometimes you love something just because it's beautiful! I hand pick each item for the shop with this in mind.




The story behind each piece is the best part of curating a collection; it's like a fairy tale. I want to provide everyone with stunning antique items they can add to their personal collection, and unique vintage pieces they can incorporate into their everyday wardrobe. Things that will make you feel beautiful, free, and like a princess!
ETSY| BLOG| @MARIACASTEEL| FACEBOOK| TWITTER
Hey! I'm Maria, I live in a 1900s 3-story brick house where the dilapidated attic is my studio. I'm mama to a happy, curious and beautiful (and stubborn) 16 month old boy named asher And married to the kindest pipe smoking, music lovin' man named Steve. i have an unhealthy love of coffee and i deeply enjoy taking photographs.
My shop was started because i love giving old things a new life, and because i was trying to earn money to adopt our boy (that dream came true! ). The more i learn about vintage the more i love it and i think its beautiful that buying vintage means your item is totally unique, and you're also recycling! (win/win :) I"m very grateful i get to do what i love.
ETSY
|
FACEBOOK
|
TWITTER
PoetryforJane is comprised of a one woman vintage warrior- with 20 years experience in the craft of picking top shelf vintage. Driven and determined-scouting the unknown and obscure, knocking down doors and leaving no stone unturned!
I specialize in handpicked vintage pieces from the 1920's to the 1990's with an emphasis on -on-trend pieces and next level vintage. Each piece is selected for color, texture, cut, pattern, detail, silhouette and trend.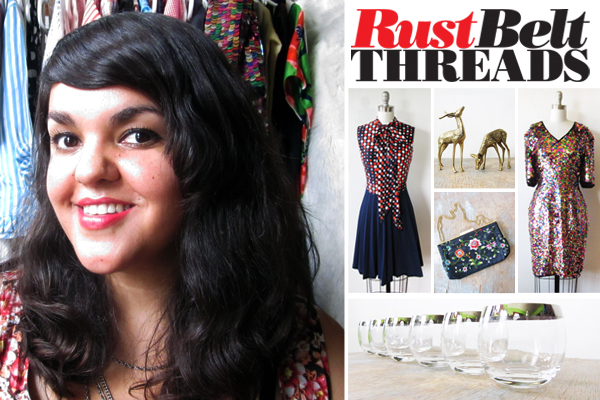 ETSY| TWITTER| FACEBOOK| TUMBLR| PINTEREST
My name is Amanda and I'm the lady behind the monitor at Rust Belt Threads. Rust Belt Threads is an online vintage shop that is run out of my apartment that I share with my husband, Nate, and our cat, Toulouse, in the westside of Buffalo, NY. I have a strong passion for vintage, especially mid century modern design, pre-prohibition cocktails, cats, and drag queens. I'm lucky enough to live in a city that is rich with history, has gorgeous architecture, and fantastic hidden treasures waiting to be found.
ETSY| TWITTER| FACEBOOK| BLOG
The Sarara Dame owns vintage because she likes to think a bit about her style. She is a trend setter. Vintage makes her think about who she is and what she loves. She enjoys fashion history and statement pieces, she's no wall flower. It's important for her to add individuality to her wardrobe and fuel her passion for life.


ETSY| PINTEREST
I've been collecting vintage since my middle school grunge phase and have been selling vintage online for over a decade. I love to mix vintage pieces with a modern trend to give it a unique look. For me I never want to feel like I'm wearing a costume, it has translate into my everyday life.
ETSY| TWITTER| FACEBOOK| BLOG
We believe that true style is something deeply personal, that speaks to our dreams and the creativity in all of us - it is our hope that Lost in Drawers Vintage can help in shaping your story. Every part of who we are and what we do as a business is expressed through attending to those details that can spark inspiration; from our exquisite tailoring, to handcrafting packaging unique for every customer, our life is grounded in working hard every day and to show kindness in every and all things. We hope to share the best of our world with you, one wearable vintage piece at a time. Please do check out our shop, and see if you fancy something special!
ETSY| SITE| FACEBOOK| INSTAGRAM| WANELO
I started thrifting & wearing vintage when I was a teenager, due to a lack of funds. My passion for fashion blossomed during my years as a clothing buyer, visual merchandiser, and retail manager.
Now, with a decade of experience, degrees in fashion merchandising and apparel design, and an eye for the eclectic, I'm excited to have my very own online store!
Something Borrowed is a vintage lover's paradise, specializing in women's clothing from the 1950s-1990s... with a splash of pre-1950's. If you're a style chameleon like me, visit my shop and bring your imagination!
ETSY| BEEHIVE CHICAGO FB| CAT'S PYJAMAS VTG| FB
Cat's Pyjamas Vintage & Ephemera
is proudly owned and operated by Chicago couple Alaina Moore and Christopher Semel (artists, treasure hunters, feline enthusiasts). We here at Cat's Pyjamas think vintage dressing is the kitten's mittens, and strive to offer a wide variety of retro gems at reasonable prices. From 40s glamour gowns to funky 90s frocks, we're your one stop shop for vintage clothing, accessories, and ephemera (posters, and pin-ups, and deco, oh my!) Visit us on Etsy, or live and in living color at our new home in Chicago's Beehive Collective. Meow!
The glint of sterling next to the vibrance of turquoise plays nicely with a soft and supple pair of worn leather boots. Pair this with intricate Southwest embroidery and an old graphic t-shirt and you have found yourself hunkered down with
Southwest Vintage
. I offer a shop filled with an ever growing collection of vintage clothing and accessories from the 40's to 90's all with and emphasis on a desert bohemian aesthetic and rooted in an infatuation with fashion.
ETSY
Vintage, in my opinion, is for present people who romanticize the most eccentric periods of our colorful past. Although, I personally favor the 60's and 70's, I get the most satisfying rush when I stumble upon a cool piece, from any era, that I know will be a "must have---can't live without" for someone! I run a relaxed and friendly shop, stocked with ever changing, genuine vintage clothing from a range of decades. I invite you to browse my store and gladly welcome any questions!
ETSY| SITE| FACEBOOK| PINTEREST
My name is Samantha, I'm an architect, a photography and fashion lover and of course a "Vintage Junkie"
I opened my store thanks to my vintage addiction two years ago. Since I've been looking for something that has that uniqueness of encapsulating time, that is classy, stylish and sometimes Fun. The Shapes, colors and fabrics tells the story of the time a garment was made. That is what I love about vintage clothing.
I think every woman should have vintage pieces in her wardrobe that can be blend with modern clothes and.. voila! You have a piece of art.