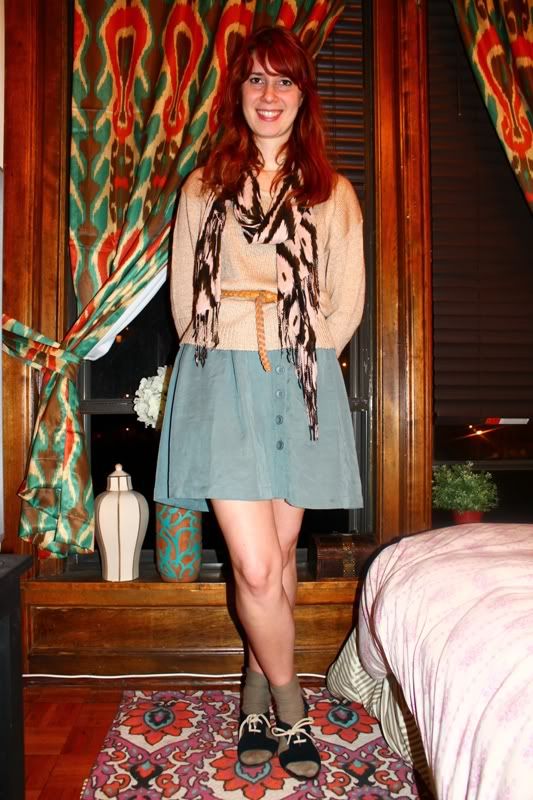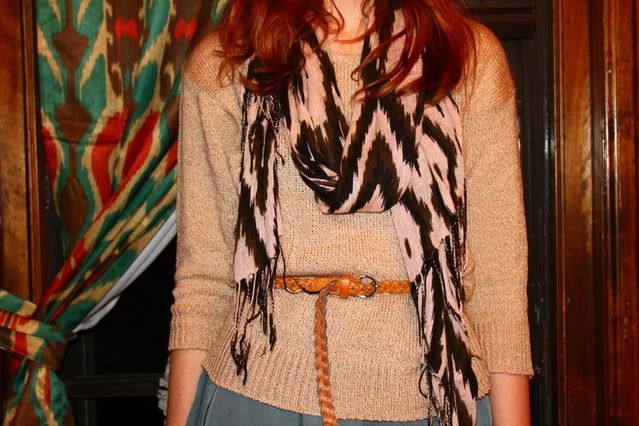 shoes and sweater- urban outfitters| skirt and belt- f21| scarf- francescas
Thursday came along promising us rain and threatening to take our sunbeams away, but it was all talk. It rained for maybe a hot minute but we all manuevered around the puddles with our bright sandals and suede shoes. Summer's here and, quite frankly, we're not letting it go.
To prove our point, my friend Lindsey and I went to a patio bar to drink margaritas and eat tacos while convincing ourselves we're probably getting a tan. Double tasking. Lindsey's a girl that wears cowboy boots with white dresses and jean jackets, or full skirts crowded with small flowers and curls in her hair, so it's always fun to sit around small tables with her and talk an afternoon away. She chatted about her French boyfriend and how they're going to the south of France this summer to sail on his dad's boat and wear giant floppy hats and sweatheart shaped bathing suits, and I sipped my margarita while squinting my eyes jealously behind my sunnies.
After we stocked up on braised pork tacos (mmm) we went over to a book store that reminded me of the inside of a grandmother's attic and browsed their odd treasures. There were books hand drawn and stapled by their local neighbors, people's diaries, cook books written on typewriters, and "From Seed to Weed" instruction books. I wanted to live there. She picked up a comic book about a turtle ad rabbit falling in love and bought it as an anniversary present for her French boyfriend, laughing at the sweet drawings. After, we strolled down to the blocks with stores, exploded our credit cards, and went home with our arms heavier and our wallets lighter. Every Thursday should be like this :)